Electrical Panel Upgrades in Parkersburg & Surrounding Areas
In addition to providing additional outlets, GFCI outlets, higher voltage and new wiring, Grogg's electricians will also bring your home electrical system fully up to code!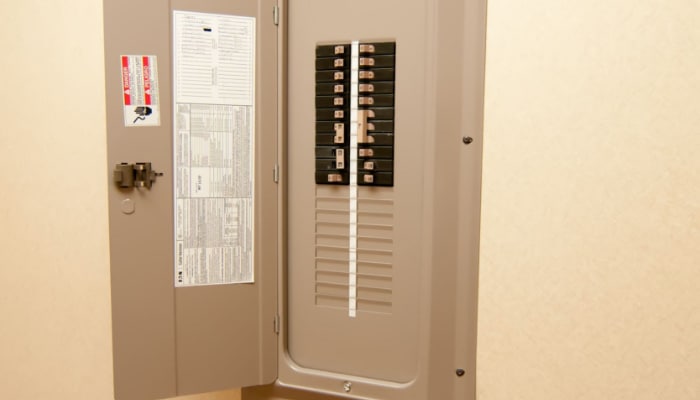 Imagine the improvements you could make to your home with an electrical panel upgrade. Additional lighting, sound systems, the ability to add electric to a newly finished garage, a room addition or basement are just a few ways an electrical panel upgrade can improve your home electronic system. Grogg's electricians are the leading authority in the Mid-Ohio Valley when it comes to panel upgrades and service upgrades.
You also may need a panel replacement if your breakers are repeatedly tripping without apparent cause.
Should I upgrade my electrical panel?
Some signs that could indicate you should upgrade your electrical panel include:
Your current panel is more than 25 years old - With advances in technology, more and more devices require electricity than in years past. If your current panel is older than 25 years, or you have fuse boxes, it may not be able to handle the demands of more modern technology.
The lights in your home flicker often - Flickering lights indicate that the power supply to your home is stretched.
You want to add more appliances - If you are thinking about adding new devices or appliances and your home is already filled with power strips, it would be beneficial to upgrade your panel to account for the larger demand.
If you are considering upgrading your electrical panel, we can help. Contact Grogg's today for precise expert panel upgrade work performed by certified electricians.
How much does it cost to upgrade your electrical panel?
On average you can expect to pay between 
$500 - $3,000
 to upgrade the electrical panel in your home. Most of this cost is due to labor, as it will take a professional electrician at least a day to perform the work involved. For a more accurate price estimate, 
contact Grogg's today!
Can you upgrade your own electrical panel?
You should choose to have this complicated service done by a certified electrician. A professional will be able to accurately perform the work and ensure it is done according to the proper electrical codes. Most importantly, an electrician will keep your home and family safe from any mistakes that could result in hazardous conditions.
Why Grogg's For Your Electrical Panel Upgrade?
Grogg's is the family-owned, professional, affordable and reputable company that will bring you a total peace of mind about your electrical system. Since 1970, we have created a company which everyone can take pride in and trust.
Please contact us today if your electrical panel is old or faulty. We're available in the Parkersburg area at  304-863-3553 .