When It's Time For a New Heating System, Go With Grogg's
If your furnace, heat pump or boiler is giving you constant trouble and you are having to shell out more money on heating repairs, it may be more beneficial for you to go ahead and just replace your old heater with a new one. Having to constantly repair an old heating system is just not worth it in the long run; it will be a better investment for you to have a new one installed.
Grogg's can help! Our dedicated team is available in Parkersburg, Clarksburg and the surrounding areas to answer any questions you may have. Just reach out to us whenever you would like!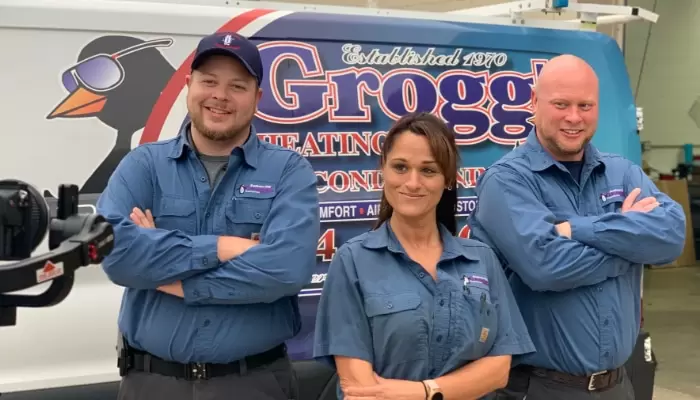 How long should home furnaces and heating systems last?
Home furnaces and heating systems should typically last around 10-15 years. Although, the lifespan of your heating system is greatly dependent on the type of heating system you have and how often you maintain it. Some geothermal heat pumps can last up to 50 years. Regardless of the heating system you have, regular maintenance will help your heating system run more efficiently and have a longer service life. To get your heating system replaced or on a maintenance plan, contact us today.
How do you know if your furnace is dying?
Some signs your furnace is dying are:
Your energy bills are increasing
You notice strange noises or odd smells from your furnace
Your furnace no longer heats your home effectively
Another sign that your furnace is dying is if it requires many repairs. If your furnace breaks down frequently and is more than 10 years old, you should consider having it replaced with a newer and more efficient furnace. To get your furnace replaced, call us today.
What is the average lifespan of a home HVAC system near Clarksville & Parkersburg WV?
The average lifespan of a home HVAC system near Clarksville & Parkersburg, WV is about 10-15 years. However, the lifespan of your HVAC system can vary depending on the type of system you have, the area you live in, how often you use it and if you have it serviced frequently. In areas with extreme heating and cooling seasons, your HVAC system can wear out sooner, especially if it is not serviced regularly. Call us today to learn more about getting your HVAC system replaced or on a maintenance plan.
How much does a new furnace or heating system cost?
A new furnace ranges in price from $1,500 to $6,500, depending on the type. The cost of installing a mid-efficiency furnace is between $1,500 and $2,500 on average. Mid-efficiency furnaces have an annual fuel utilization efficiency (AFUE) rating ranging from 80% to 89%.
When should a heating system be replaced?
Your heating equipment may last 10-20 years if it receives yearly maintenance and is kept in good condition. When your heating system hits 15 years of age, it's definitely time to start thinking about replacing it with newer, more energy-efficient heating equipment. When correctly installed, these high-efficiency furnaces may save up to 20% on heating expenditures. Even if your heating equipment appears to be in good working order, it's better to start saving and planning now rather than waiting until your equipment fails.
Should I replace or repair my home heating system?
We recommend replacing your furnace when repair expenses are more than 50% of the cost of a replacement. However, if your heating system is 15 or more years old, you should replace your furnace after repair expenses exceed 30% of the replacement cost.
Benefits of Installing a New Heating System
If you are considering replacing your old, broken, money-pit of a heater with a brand new one, you are making the right choice!
Check out these awesome benefits to adding a new heating system in your home:
Save On Service: You save money because you are not constantly having to pay money for repairs on an old unit.
Save on Energy: When you have a new heater, you are getting it brand new, with all of the components operating at full capacity, without any trouble, thus being energy efficient.
Increased Air Quality: Your air quality might improve once you replace old, dusty equipment. Regular heating maintenance will help this, but every system has an eventual expiration date.
Reliability: When you purchase a new unit, you are increasing your peace of mind. You'll also be able to enjoy the latest, improved technology.
Upgrading your old broken heater for a new one has many advantages! If you would like to learn more, please reach out to us and we will be happy to help!
Why You Should Choose Grogg's for Heating Services
Grogg's has been in business for many years and know the industry inside and out. Our team is fully trained and equipped for any job and will be as transparent throughout the process as we can be. When you choose Grogg's, you are not just getting another home services company. You are getting much more than that. You are getting a friendship. We take extra good care of our customers and appreciate you for choosing Grogg's for your home service needs.
Please give us a call at (304) 326-0553 in Clarksburg, (304) 863-3553 in Parkersburg, or contact us online.