Water Heater Service in Parkersburg & Surrounding Areas
Your water heater plays a crucial role in maintaining your home's comfort by supplying you with hot water on a daily basis. When your hot water heater begins to break down or fail, the decision to repair it or replace it can be difficult. If you do choose to replace your water heater, it is important to select the best water heater for your needs. Whether you're in the market for an atmospheric vent or power vent traditional hot water heater or tankless hot water heater that will supply you with an endless supply of hot water when you need it, Grogg's Plumbing has you covered!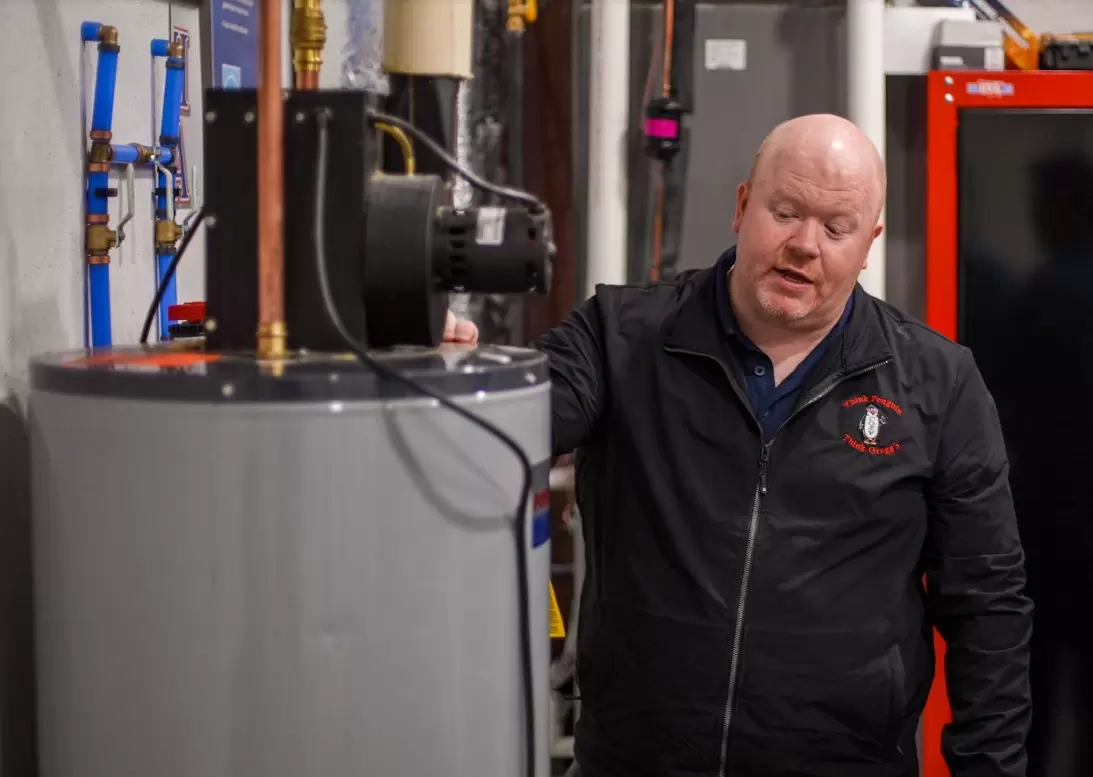 How much does it cost to service a water heater?
The average cost to service a water heater is about $120. Water heater service typically includes a complete flush of the tank to remove sediment buildup and a tune-up of the water heater's components. While you can flush the tank yourself, we recommend you have a trained professional perform tune-up service.
How often should a water heater be serviced?
To eliminate the buildup, experts typically recommend that your water heater be emptied and cleaned at least once a year. Homes with hard water or high sediment content may need to have more frequent water heater service. 
Getting annual water heater service from a trained professional ensures that you are receiving the maximum amount of hot water that your tank water heater is capable of delivering to your house. A tank water heater may easily provide 8 to 12 years of continuous operation. However, if you maintain your tank water heater on a regular basis, you will reduce tank damage and assure the longest possible life.
What are the signs your hot water heater is going out?
Hot water heaters seldom fail without notice. That is why it is critical not to disregard the warning signals that your hot water heater is about to fail. Here are some of the more prevalent clues: 
Leaking water

- Leaks indicate that your hot water heater is failing. Water may be leaking from the tank or collecting beneath the device. You may also see water dripping from pipes.

The water heater's age

- Be cautious if your unit is old (10 years plus). Look for a label with an installation date on it. If it isn't available, you can use the brand name and unit serial number to look for the date of production online.

Quickly running out of hot water

-If you haven't cleaned your hot water heater on a regular basis or if your water contains a lot of sediment, such particles may collect in the tank. Because accumulated sediment takes up less room for hot water, you run out of it quickly.

Inconsistent shower water temperature-

If you're lucky, you could merely have a thermostat problem that can be fixed. If the heating components are damaged, you have a much greater problem.
If you're seeing signs that your water heater is failing, call in a specialist to evaluate it and make recommendations for repair or replacement.
Top Water Heater Brands For Your Home
At Grogg's Home Services, we partner with the highest quality brands of traditional tank water heaters and tankless, on-demand water heaters. We make sure to provide you with state-of-the-art, efficient hot water heaters that comply with all of the new energy efficiency standards recently mandated by the federal government. Whatever unit you need will be installed by the very best plumbers in the Mid-Ohio Valley. Our work is always guaranteed, and we'll never settle for anything less than your 100% satisfaction.
Talk to a Live Person, 24 hours a day, 7 days a week.
Traditional Water Heaters Vs. Tankless Water Heaters
Choosing between a traditional storage tank water heater and a tankless water heater usually comes down to personal preference and household needs. Tankless water heaters are more expensive to have installed initially, but they offer energy savings and immediate, unlimited hot water. Traditional storage tank water heaters are cheaper to install initially, but they can take a while to provide hot water. Ultimately, it can be a tough decision to determine whether you need a tankless or storage tank water heater, which is why it is important to talk to a plumber about your home's individual needs.
Avoid Unexpected Water Heater System Failures Maintenance
Grogg's doesn't want you to be taken aback by a sudden water heater failure with unexpected repair costs and cold water. That is why we offer a plumbing maintenance plan to help prevent that from happening! Our plumbing maintenance plans include discounts on repairs, priority service, free service calls and annual servicing.