Geothermal Heating & Cooling in Parkersburg, Clarksburg & Surrounding Areas
Grogg's Home Services offers geothermal services including:
Geothermal Heat Pump Installation
Geothermal Heat Pump Repair and Replacement
A geothermal heat pump is often referred to as "geothermal heating" or "geothermal heating and cooling." A geothermal heat pump is primarily used for residential purposes and uses the Earth's renewable energy to heat and cool buildings. Pipes are extended into the ground where refrigerant gets pumped through and brought back up to the house. Heat is exchanged, causing either a cooling or heating effect. Because the Earth's underground temperature is always around 60 degrees, the heat exchange process uses very little energy, lowering your power bills. To find out more about getting a geothermal heat pump installed for your home, give us a call at 304-863-3553 today!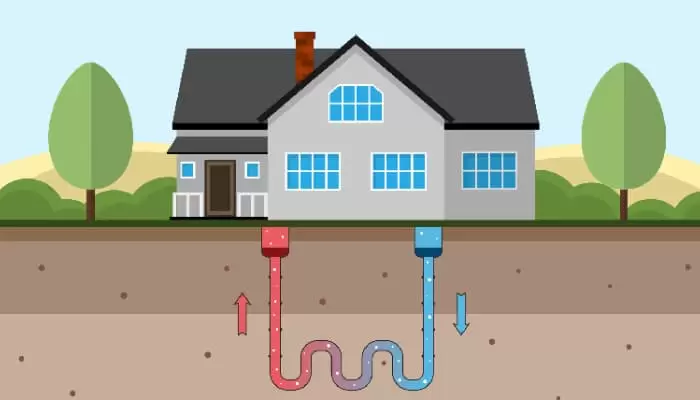 Benefits of Geothermal Heating & Cooling
Geothermal heating and cooling systems can be expensive to have installed, but have many benefits that outweigh the cost. Some benefits of geothermal HVAC systems include:
They are safer, cheaper and quieter to operate.
They have a longer lifespan than traditional HVAC systems — up to 50 years!
They help promote better indoor air quality.
They require very little maintenance.
They can also be set up to provide an immediate hot water supply.
Although the initial cost to have a geothermal heat pump installed can be high, it generally pays for itself within the first three to five years due to the energy savings and tax credits it provides.
Talk to a Live Person, 24 hours a day, 7 days a week.
Is geothermal heating and cooling worth it?
While geothermal heating and cooling is a larger upfront cost, the long-term benefits are very well worth it! Some advantages include:
Lower Energy Bills

- Experts estimate that geothermal systems can lower energy bills by up to 70%!

Effective Comfort

- Geothermal systems work well without much maintenance and no inconvenient cycling noises or intrusive equipment. 

Eco-Friendly

- Geothermal is renewable energy that is very friendly to the environment, especially when you consider the traditional methods of heating and cooling a home. 
Are you interested in learning more about geothermal heating and cooling? Grogg's can help. Contact us today and one of our knowledgeable team members will be happy to answer any of your questions.
How long do geothermal systems last?
Geothermal systems last longer than traditional heating and cooling systems. You can expect the indoor components to last around 25 years, while the ground loops can last up to 50 years!
What are the pros and cons of geothermal heating?
When it comes to making a decision on whether or not to install geothermal heating, you should consider all of the pros and cons. Let the experts at Grogg's walk you through a few:
Some Pros to consider:
Geothermal systems last much longer than traditional heating and cooling systems.
Geothermal energy is renewable and sustainable.
Energy bills are much lower than with an HVAC.
Can be used for small homes and large commercial operations.
Some Cons to consider:
It is difficult to install a geothermal system to an existing house and is usually recommended only for new construction.
Geothermal systems have a larger upfront cost than traditional HVAC systems.
Have questions about geothermal heating and cooling systems? Contact the experts at Grogg's today!
How Does Geothermal Technology Work?
These systems work by tapping into the consistent temperature of the Earth. In winter, geothermal heat pumps take the heat from the ground and bring it to the surface, where the air has cooled. An air-source heat pump, on the other hand, will spend a lot of energy trying to extract heat from the cold air outside, spending more energy.
This works the opposite way in the summer months. Since the air is hotter near the surface of the Earth, heat is brought down from your home to the relatively cool soil or water below. This method results in lower energy usage as well as higher efficiency.
Is A Geothermal Heat Pump The Right Choice For You?
Determining whether a geothermal HVAC is the correct choice for your home can be difficult, especially when you have recently discovered geothermal systems. Weighing the pros and cons of a geothermal heat pump system with your home's heating and cooling needs in mind can help you determine if it is the right choice for your home. To learn more about our geothermal heat pump options, contact Grogg's Home Services today!