A clog in your sewer system can range from something very simple to something that requires a complete sewer line replacement to leaky pipes and everything in between. In any case, a clog needs the attention of a trained and seasoned plumbing professional. In addition to the obvious problems created by a clogged drain, a backed up system can also be hazardous to your health, as it is critical for waste to be removed from your home in a safe, efficient and sanitary manner.
Grogg's plumbers have the know-how, the experience and the tools to take care of any job big or small. A sewer clog needs immediate attention, so don't delay in calling a Grogg's plumber to come out and assess your situation right away.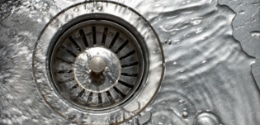 How to Avoid Sewer Problems Before They Begin
Plumbing maintenance is a great option for learning about any existing issues with your system and having them professionally addressed before they grow out of hand. Additionally, by joining a membership at Grogg's, you will also receive a 20% discount off of all plumbing service repairs as well as preferred service. Service calls are also free!