Heating System Service in Parkersburg & Clarksburg
Does your heating system fail to keep your home warm? Do you notice strange noises coming from your furnace? Are your energy bills much higher than usual? 
If you are experiencing any of these issues, it is time to get furnace maintenance. Furnace maintenance helps your furnace run better and longer. At Grogg's Home Services, we offer furnace maintenance plans to accommodate your heating system maintenance needs. Call us at 304-863-3553 to find out more about our furnace maintenance!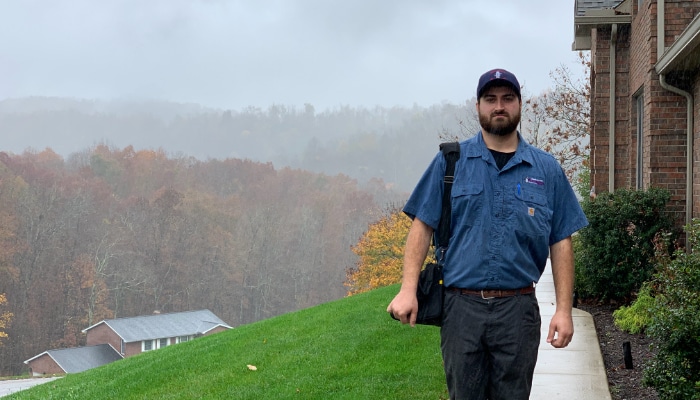 Does Your Heating System Need Maintenance?
Furnace maintenance needs can be easily ignored, but can lead to severe issues if neglected. If you do not have your heating system serviced on a regular basis, it will have a shorter service life, require more repairs and may not be covered under warranty. To get the best results from having your heating system serviced, you should have it serviced once a year right before the heating season. In addition to increased efficiency, having your furnace maintenance will also ensure your comfort throughout the winter since you will be able to detect any repair needs ahead of time.
Talk to a Live Person, 24 hours a day, 7 days a week.
Furnace Maintenance FAQs
How often should an HVAC system be serviced?
You should perform maintenance on your home air conditioning system at least once a year. Similarly, your heating system. A once-yearly air conditioner service appointment is always necessary, even though regular check-ins and cleanings throughout the year are always a good idea to ensure your system is functioning properly.
What's included in HVAC maintenance?
Here are a few of the most basic items included in an HVAC maintenance inspection:
Fan evaluation:

It is important to make sure the fan's motor and blades are in good condition.

Replacement of air filters:

To maintain airflow and quality, air filters should be changed on a regular basis.

Assessment of thermostat settings:

When you are home and using the space, the settings should keep it comfortable. When you are not home, they should be changed to save energy.

Electrical connection check:

The voltage and current readings should indicate that the connections are secure.

Lubrication:

 Lubrication lowers resistance and aids in energy conservation.

Examining the condensate drain:

This will help to make sure that it is not blocked or clogged in any way.

Start and Shut off confirmation:

a technician should confirm that the system starts, runs, and shuts off properly. general operation assessment

Inspection of the outdoor HVAC unit:

The area around the outdoor HVAC unit should be cleared of debris and dirt.
Is an HVAC tune-up worth it?
The likelihood of experiencing an expensive breakdown can be reduced by up to 95% by scheduling routine maintenance for your HVAC system.
Regular maintenance can help ensure that your system will continue to function as it should by addressing minor issues before they become more serious. Your system can be maintained to distribute warm or cool air throughout your house more evenly. This can control the temperature in your house and maintain year-round comfort for everyone living there.
Do I really need a furnace tune up?
Yes, you should have your furnace tuned up. The following can happen if you do not have your furnace serviced on a regular basis:
Your furnace will break down frequently.
Your furnace will not be covered under warranty.
Your furnace will require frequent repairs. If you do not have your furnace serviced on a regular basis, it can also cause your monthly energy bills to increase. To get your furnace tuned up, give us a call today.
How much is a furnace tune up?
A furnace tune-up typically costs around $125-$200.
Some of the benefits of getting your furnace tuned up include:
Your furnace requires less repairs.
Your furnace breaks down less often.
Your energy bills are lower. If you have your furnace serviced on a regular basis, your furnace can last longer and remain covered under its manufacturer warranty.
The Value of Heating System Maintenance
Some advantages to having your furnace serviced are:
Your furnace has a longer life expectancy. 

Your furnace is more efficient and costs less to run.

Your furnace stays covered under its manufacturer warranty. 
When you have your furnace serviced on a regular basis, you will not need to worry about surprise repair needs and full system failures in the peak of winter. To ensure that your furnace receives the proper amount of servicing, you should get your heating system on a furnace maintenance plan, like the Grogg's Comfort Club.  
Choose Grogg's For Heating Maintenance
At Grogg's Home Services, we try to make maintaining your heating system easy and stress-free. We have a heating maintenance plan that allows you to get your furnace serviced on a regular basis while receiving additional perks. As a member of our Comfort Club, you could receive discounts on repairs and products, free service calls and preferred service. To find out more about getting your furnace on our maintenance plan, contact us today.