Hard Water Solutions From Grogg's
In our area, those with well water need to use water softener systems in order to keep hard water concerns at bay. However, when choosing a water softener, you want to make sure the quality is of the highest in order to keep your water quality high as well. With the help of Grogg's Home Services, you can have the best in water softener systems and ultimately the purest water for your family.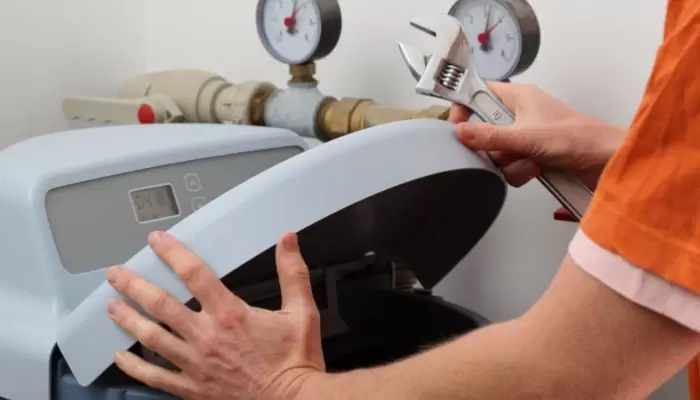 Do I Have Hard Water?
"Hard water" is classified by having too many minerals, especially calcium and magnesium, in your water. Water softener systems work by lowering the concentrations of these minerals. In general, you can tell if you have hard water if you see mineral buildup around faucets, have a hard time getting your dishes clean, or have issues with unusually dry skin. If you already have a water softening system but are experiencing hard water symptoms, it may be time to replace your current system.
Talk to a Live Person, 24 hours a day, 7 days a week.
How Hard Water Can Impact You
There are many reasons to have your hard water taken care of with a water softener system. Hard water can cause a number of problems, including:
Dry, Irritated Skin - Hard water will leave a film over skin that could irritate it and leave it dry.
Laundry Problems - Washing clothes in hard water can leave clothes dull, stained and smelling sour.
Mineral Buildup On Fixtures - Hard water can leave a mineral buildup on faucets and shower heads.
Plumbing Problems - Too long with hard water can cause buildup of mineral deposits in pipes.
Broken Appliances - Without a water softener system, hard water will wreak havoc on water-using appliances, such as dishwashers and washing machines.
Turn To Grogg's For Hard Water Solutions
If you are concerned about your home's hard water, Grogg's is ready to help! We offer a number of different water softener systems by Puronics that are of the highest quality. With our effective water treatment solutions, you can enjoy your home's water once again. To learn more or for a quote on services, contact Grogg's online or call us today at 304-863-3553 !