Local, Professional AC Repair Service For Clarksburg, WV
If you are experiencing air conditioning repair issues, call on Grogg's to help! Our team of experts have several years of experience in the industry in the Clarksburg and Parkersburg areas and will be able to assess your AC unit to determine the problem and provide a solution. Grogg's has been in business for several decades, so we know the best practices in repairing your air conditioner.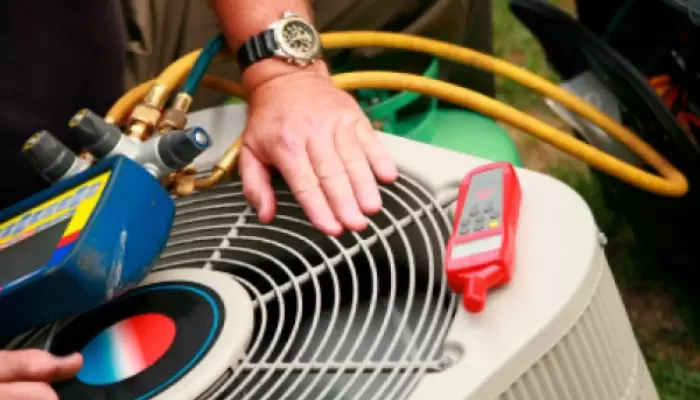 Common AC Issues & Their Causes
These are just some of the issues people encounter that require professional air conditioning repair:
No Cold Air

- This one might seem obvious, but it's still worth mentioning. If there's no cold air coming out of your AC, there's likely a problem with your compressor, your refrigerant or even the airflow of your unit. Get it checked out.

Uneven Cooling

- Is one room too hot while another feels like an igloo? That's not how things are supposed to work. There could be issues in the ductwork or a malfunctioning thermostat.

Unusual Noises

- Your AC will have a normal hum, but that should be the extent of noise it makes. If it's banging and crashing around like a samba band, get it inspected.

Constant Cycling

- Pay attention to how often your AC comes on and shuts off. If it's happening nearly constantly, you might be looking at a major issue.

Leaks

- Whether it's water (a big deal) or refrigerant (a huge deal) your unit should not be leaking, and if it is it needs quick attention.

Frozen Coils

- Your air conditioner coils should not be frozen up. If they are, you could have restricted airflow, dirty coils or, ironically, may need refrigerant.
If you are experiencing any of the problems listed above or any additional problems not listed, please give us a call, and we will happily take a look to see what is causing the issue. We will provide you with a solution to completely resolve the issue! We'll also help you look into AC replacement if repair is not an option.
Having AC problems is stressful, and we understand that. We will make our best effort to fix your problem as soon as we can so you and your family can enjoy cool air again!
Our Comprehensive Air Conditioning Services
When you call Grogg's Home Services, you're calling in a crack team of air conditioning experts that can diagnose and correct virtually any issue with your system. Depending on your situation, we provide:
AC Unit Diagnostics

- The first and most vital step in any home AC repair is investigating the problem and determining the right solution. If you don't know what's wrong, you can't fix it.

Leak Detection

- If your unit is leaking refrigerant, we can discover and patch up where it's happening while also refilling it for optimum cooling.

Component Repair or Replacement

- Whether it's the compressor, fan motor or any other mechanical component of your system, we can correct its issue or replace it.

Thermostat Calibration or Replacement

- The thermostat is the brain of your air conditioning system and if it's malfunctioning nothing will work right. We can ensure it's reading the temperature correctly or install a new, smart unit if you prefer.

Ductwork Inspection and Repair

- Without good

ductwork

, you're losing all your conditioned air - costing you comfort and money. We'll find the leaks and get them plugged.

Other Services

- When it comes to home air conditioning repair, we've got you covered. Anything that prevents your system from working as it should, we correct it.
DIY AC Repair Tips
Major AC repairs should always be left to the professionals. But there are definitely some things you can do on your own if you notice your unit isn't working properly:
Make sure to replace your air filters regularly for solid airflow and good indoor air quality.

Clean up any debris or vegetation from around the outdoor unit so it is clear to do its job.

Verify that your home has adequate insulation so you aren't losing your cooled air to the outside.
Why You Should Choose Grogg's
When you choose us as your AC repair company, you get a team of professionals with several years of experience coupled with exceptional customer service and high-quality work. We make sure that we take care of our customers. If you are having any issues with your air conditioner, please do not hesitate to reach out to us online or call 304-863-3553 today!