Heater & Boiler Services In Parkersburg & Clarksburg
When the winter hits, don't get left out in the cold with poor furnace service. Grogg's Home Services can help with your home heating needs no matter what. We offer heating services on gas furnaces, electric furnaces, geothermal heat pumps and boilers. Our services include repair, installation and maintenance on your heating system guaranteed to keep you and your family warm through the coldest winter months.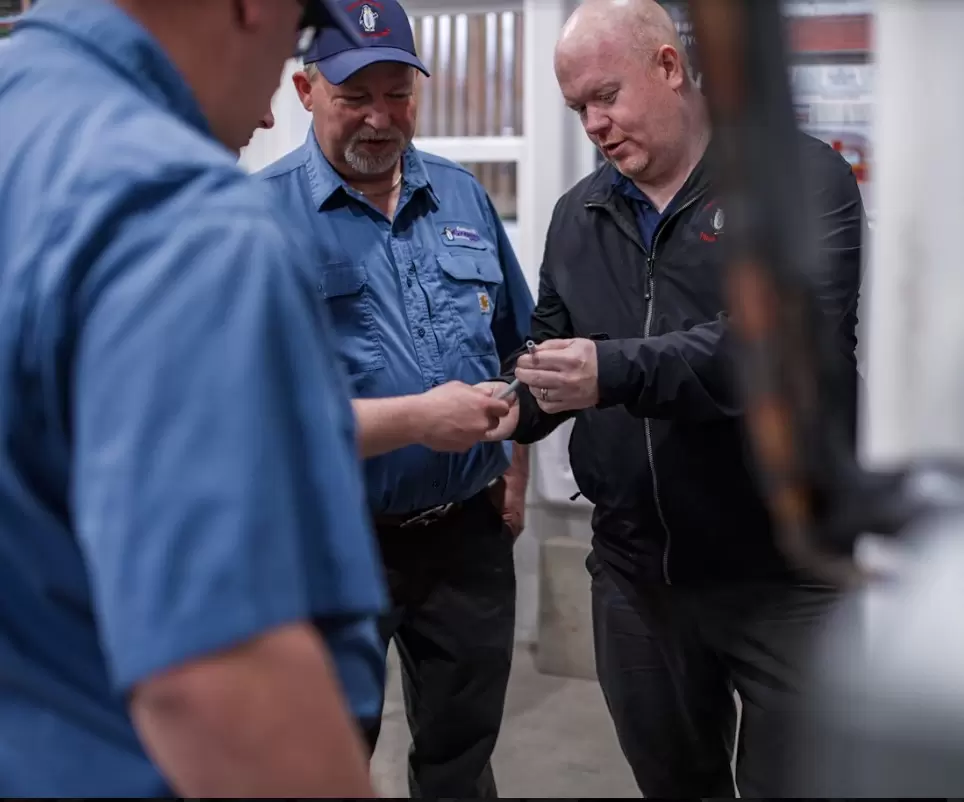 What home heating services does Groggs provide?
Grogg's Home Services provides the following heating services:
Furnace, geothermal heat pump and boiler inspection
Heating system installation
Furnace, geothermal heat pump and boiler repair
Heating system maintenance
At Grogg's Home Services, we know how important it is to keep your home warm, especially during winter months. That's why we specialize in a range of heating systems to fit your specific needs. To learn more about our heating services, contact us today.
Should I repair or replace my HVAC system near Clarksburg & Parkersburg WV?
A few reasons you may want to replace your HVAC system rather than repair it in Clarksburg & Parkersburg, WV include:
Your HVAC system is over 10 years old 

Your energy bills have increased 

Your HVAC system no longer effectively heats and cools your home 
Additionally, if the cost to repair your current HVAC system is more than the price to repair it, you should consider getting a newer HVAC system installed. A newer HVAC unit will not only heat and cool your home more effectively, it will also cost you less on energy each month. To get your HVAC system repaired or replaced, contact us today.
How much does it cost to have your furnace checked near Clarksburg & Parkersburg WV?
It costs around $150-$300 to have your furnace checked in Clarksburg & Parkersburg, WV. Getting your furnace tuned up is a great way to ensure that your furnace is clean and running as efficiently as possible. It also helps you identify any issues with your furnace before they become more severe repairs. To get the most out of having your furnace serviced, you should have it checked at least once a year. Most maintenance plans provide annual checks of your furnace and discounts on repairs, making them a very smart investment. To learn more about getting your furnace on a maintenance plan, contact us today.
Heating Services From Grogg's
Did you know that Grogg's has served this area for over 50 years with expert heating services? We have pretty much seen it all when it comes to heating repairs and unique furnace conditions. You can count on our expert team of certified technicians to have your furnace serviced the right way the first time. In addition, we are available 24/7 for emergencies. Just connect with us today for the best service around! 
Talk to a Live Person, 24 hours a day, 7 days a week.
Our Heating System Services
Heating Repair - We are happy to repair any type of furnace, boiler or heat pump, regardless of its age or brand. Our repair services are fast and effective. Before any work is done, we will consult with the homeowner to ensure you are kept in the loop for the entire service. And we are available to you anytime, day or night, for emergencies. 
Heating Replacement - Considering replacing your heating system and aren't sure where to turn? You can count on Grogg's for our expert installation services on furnaces and heating systems that will ensure the unit functions properly for years to come. We also offer convenient financing options on your new purchases, as well as provide free estimates. 
Heating Maintenance - Did you know that annual service on your furnace will help it run more safely and effectively? Our inspection and tune-up services ensure your system is running at its best. Enjoy regular maintenance and exclusive member perks when you join our Comfort Club today.
What Is AFUE?
When looking at efficiency values in furnaces, you may come across the term AFUE. The Annual Fuel Utilization Efficiency (AFUE) rating is used to describe how efficient a furnace is. 
Higher AFUE ratings correspond to a higher energy efficiency. This translates to a lower energy bill. The AFUE compares the amount of heat your furnace is producing to the amount of fuel that the furnace is spending.
So if a furnace has an 80% AFUE rating, it means that 80% of the supplied fuel goes to heating your home. The other 20% typically might be lost from the chimney. An older furnace may only perform at 60% efficiency. Modern-day furnaces are capable of reaching up to 98% AFUE ratings! Grogg's is happy to offer a number of high efficiency furnaces to our clients. 
Why Choose Grogg's
With over 50 years in business, we are proud to call the Clarksburg and Parkersburg, WV areas home. We offer incredible warranties on our services as well as 24/7 emergency repair services. For all of your home's heating needs, call Grogg's today at 304-863-3553 ! You can also get in touch with us and schedule an appointment online.