Duct Cleaning in Clarksburg, Parkersburg & the Surrounding Area
Your air duct system is essentially the lungs of your home. It cannot "breathe" normally with congestion and contamination--and neither can you. With regular cleaning from Grogg's, your system can work properly, and you can breathe easier.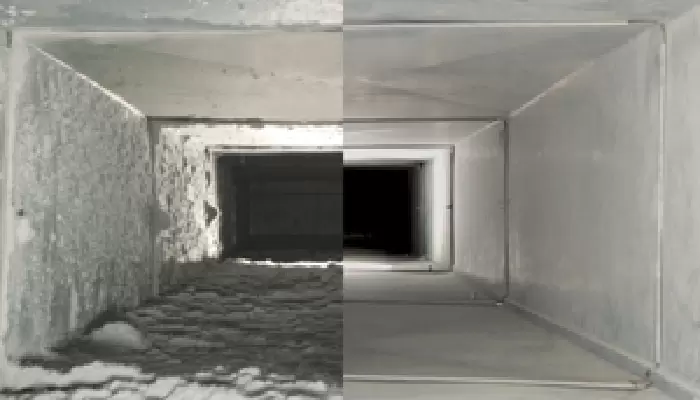 The Effects of Germs and Buildup in Your Air Ducts
According to Total Health & Better Health Magazines, there is a direct relationship from germs carried by your air duct system and allergies. This specific phenomenon affects one out of every six people!
How do I know if my air ducts need to be cleaned?
A few signs to look out for when considering if you should have the air ducts in your home cleaned include:
Any mold growth that can be seen on the ducts or other parts of the heating and cooling system.
Any evidence of vermin or insect infestation.
Dust or particles released into your home from the supply vents, indicating clogged or very dirty ductwork.
Typically it is recommended that you have your ducts cleaned every 3 - 5 years. If it is time to have this important service done, contact Grogg's today and we'll get you on our schedule!
How much does it cost to get air ducts cleaned?
Depending on the size of your home and the complexity of your ductwork system, on average you can anticipate paying between $800 - $1600 to have your air ducts professionally cleaned.
For a more accurate price estimate, call the experts at Grogg's today!
Is Duct Cleaning worth it?
Duct cleaning can absolutely be worth it, especially if you or anyone in your household suffers from allergies or health issues. It is crucial, however, that you employ a professional company that utilizes the proper methods of air duct cleaning. If not, the result could be worse than if you had not cleaned the ducts in the first place, as the use of inadequate vacuums and procedures could release more harmful particles into your home's air. To learn more, or to schedule a service done by the air quality experts at Grogg's, contact us today.
Do You Need Professional Duct Cleaning?
Ask yourself these questions:
Are you suffering from allergies indoors?
Do you have a smoker in your home?
Do you have pets?
Is there visible dust/dirt on your registers or vents?
Can you never seem to get rid of dust on furniture?
Has it been longer than five years since your ducts were cleaned (if at all?)
If you answered "Yes" to any of these questions, you would probably benefit from a professional air duct cleaning.
If you want the duct cleaning option that is affordable and efficient, choose Grogg's Heating and Air Conditioning for the job. We only abide by the most professional methods and procedures that are recommended by the Environmental Protection Agency and the National Air Duct Cleaners Association. Typically, the process takes about four to six hours.
Depending on your air filtration setup, we recommend duct cleaning service every three to five years.
In addition to your indoor air quality benefits, air duct cleaning also helps your heating and cooling run more effectively.
Give us a call today to schedule a free estimate or click here for a free quote!