Window & Door Installation in Parkersburg & Surrounding Areas
Grogg's high performance Energy Star® window and door collection was designed to save you money, to reduce your carbon footprint and to increase the value of your home. Our variety of replacement windows and doors will complement your home's style both inside and out, while you rest easy knowing you're saving money on your energy bills. We offer a variety of colors and styles, and we know you're bound to fall in love with at least one of them! We also offer one of the most energy efficient triple-paned, low E windows on the market today.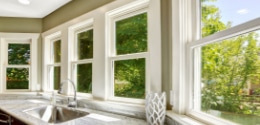 Beautiful New Windows and Doors
Grogg's expert window & door installers are highly trained on window replacement and installation. They will trim the windows & doors into your existing structure so neatly and cleanly that you'll wonder why they didn't choose carpentry as their profession!
Window and Door Upgrades For Energy Efficiency
If you're considering a new heating and air conditioning system, consider replacement windows and doors as well. Any heating and air conditioning company who does things right will perform a "heat load" on your house before sizing your equipment and giving you a price, and window and door condition factors heavily in those calculations. Loose, poorly fitting and cracked windows, along with old windows that are not energy efficient due to age or leaking seals, will cause your heating and air conditioning home comfort system to run more often than it should. This increases your energy bills and decreases the lifespan of your equipment.
Your home is likely your number one investment. Be sure to trust Grogg's, the mid-Ohio Valley's leading expert on all home services, with all of your window, door and home service needs.